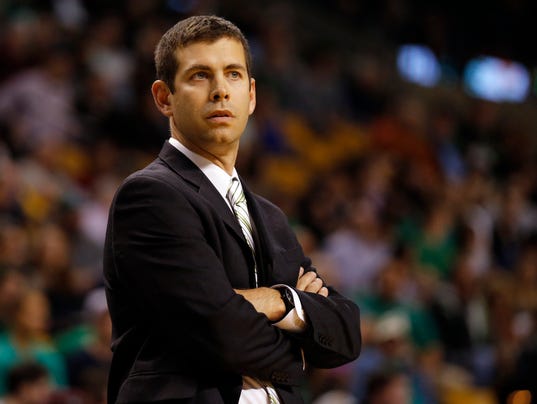 Brad Stevens took full blame when he decided to go with Brooks over Vitor against the Clippers Wednesday night. During Friday's close game against New York. Stevens made another move when it came to Vitor. The Celtics head coach decide to ride with Vitor instead of Jared Sullinger in the win over the Knicks.
Jared Sullinger feasted on the New York Knicks' interior defense (or lack thereof) to the tune of 17 first-half points (Sullinger was 5-of-7 shooting and got to the charity stripe for seven free throw attempts). Naturally, with the game in the balance in the fourth quarter, Boston Celtics coach Brad Stevens leaned on rookie center Vitor Faverani instead.



Faverani, the Brazilian import who made a big splash early in the season but has been used sparingly in recent weeks, played a team-high 10:47 in the fourth quarter, chipping in five points and four rebounds while finishing plus-13 in plus/minus for the frame as the Celtics rallied from an 11-point deficit for a 90-86 triumph at TD Garden. Asked to explain the decision to stick with Faverani, Stevens quipped,

"Very little brain power put to it. All vision of, 'Hey, that guy's really in a nice groove.' [Brandon] Bass is our best bet on [Andrea] Bargnani if Jeff [Green is] going to guard Carmelo [Anthony]. And we've got a nice rhythm going. Vitor made a huge 3, made a huge catch-and-finish with a minute to go, but more than anything I felt like we had rim protection at a pretty good level down in the paint with him in the game and we were also rebounding. So, all gut, no math or science behind that one. That was just one of those lucky things that happened the right way."



I love his response to his choice to keep Vitor in. His gut was right against the Knicks, and thankfully he remained calm, as usual of course. I would like to see more of Vitor this season. I do believe Brad trusts him, and wants to give Vitor more time. Faverani had a pair of big baskets in the 4th, and his big body was big against Bargnani, who was hurting the Celtics, mainly Olynyk, or at least it seemed that way. Stevens choice to leave the big man in may have saved the game for the Celtics.

Categories: None