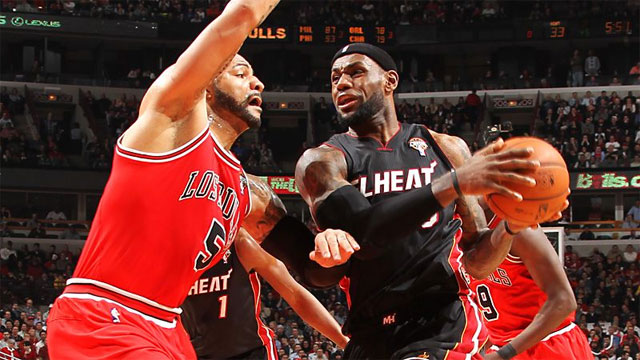 Tonight the Miami Heat got their rings, and they got the win at home against the Chicago Bulls. Someone was going to spoil sombody's night, and the back-to-back champions spoiled Rose's grand return to basketball.
Lebron had 17 points, eight assists and six rebounds for Miami.Rose finished with 12 points in 34 minutes in his first game since a serious knee injury in April 2012. Boozer had 31 points and seven rebounds for Chicago, which got within eight points in the final minutes. For a moment I thought the Bulls had a chance, but the Heat wouldn't let go of this one.
The Heat wasted most of what was a 25-point lead before holding off Rose and the Bulls 107-95 on Tuesday night in the season-opener for both squads. Check the highlights below.
As for the second best team from the East last year. The Pacers were in a back and forth game for nearly three quarters. The Pacers would let the Magic know in the 4th quarter that fun time was over. The entered the 4th on a 21-4 run at the end of three. The Pacers finished off the Magic 97-87.
George finished with 24 points, six rebounds and five assists.Lance Stephenson had 19 points, seven rebounds and five assists. Hibbert scored just eight points but had 16 rebounds and seven blocks and the newly constructed bench played a huge role in Tuesday's game.
In Tuesday nights final game. The Lakers beat Doc Rivers and the Clippers in his first game as Clippers coach in regular season action, and Doc's first loss to the Lakers with the Clippers. The sad part for the Clippers was the fact that the Lakers bench beat them.
Xavier Henry scored a career-high 22 points, Farmar added 16, and the Lakers moved past the Clippers in the final minutes for a 116-103 victory. Nice to see Doc lose. Highlights below.
Categories: NBA News