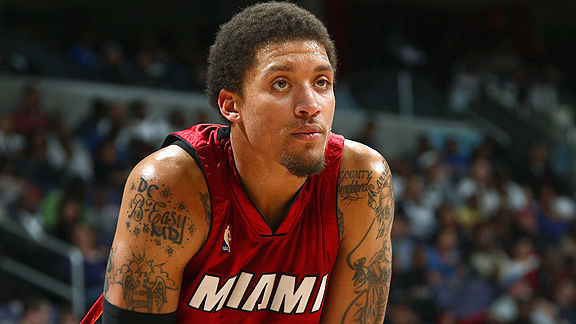 Beasley spends a lot of his free time smoking stuff that he shouldn't. At least if your a NBA player you shouldn't. The Suns released Beasley a week or so ago because of his off the court issues, and oh gee, look where he lands. Back with the Heat? Sounds a bit fishy, but just when you think  the Pacers and Nets have put one over on the Heat. They come back with a hidden gem. If he can stay out of trouble the Heat have stolen a quality player who still has a lot of potential. Damn! This is a perfect example of a low risk high reward type move.

Michael Beasley's NBA career got started in Miami, and now the Heat are hoping it can be revived in Miami.

The troubled forward is back with the Heat, signing a contract on Wednesday that will give him another chance to prove he belongs in the NBA. He was bought out earlier this month by the Phoenix Suns, not long after the No. 2 pick in the 2008 draft was arrested in Arizona on charges of felony marijuana possession and possession of drug paraphernalia.

"Michael had the best years of his career with us," Heat president Pat Riley said. "We feel that he can help us."

Yahoo! Sports reported on Saturday that the Heat were interested in bringing Beasley back, and the team quickly and emphatically denied that a reunion was in the cards. Four days later, the deal was done, and Beasley will be in training camp with the two-time defending NBA champions on Oct. 1.

It took some doing on Beasley's side to make the Heat offer become reality. A person familiar with the situation told The Associated Press that the team initially had no interest in bringing Beasley back, then was swayed after the former Kansas State star offered to accept a non-guaranteed contract.

That's what it took for the Heat to "give him a shot," said the person, who spoke on condition of anonymity because neither side had released specific details of the talks.

Beasley was traded by Miami to Minnesota in July 2010, part of the sweeping moves that allowed the Heat the financial flexibility to re-sign Dwyane Wade and Udonis Haslem, plus land Chris Bosh and LeBron James.

So there is a certain irony in that, as the NBA heads into what's expected to be another wild free-agent summer in 2014 -- with James, Wade and Bosh among those who could be choosing new homes -- Beasley is back in Miami and tasked with helping the Heat win a third straight title.
Categories: NBA News