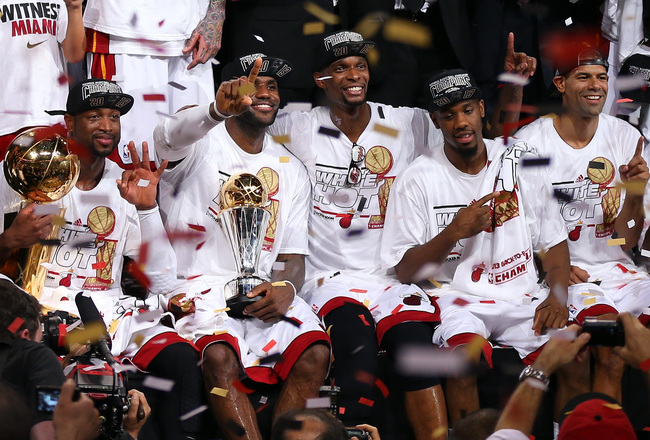 As of right now, many will pick the Heat to ride into the sunset once again. I wouldn't blame them for saying that either. When it comes to James, and the Heat. Sometimes I feel like the pure hate that I have for them gets in the way. I did have them reaching the Finals last season, but my initial pick was that the Thunder would win it all, and that was  before Westbrook's injury. The Heat reached the NBA Finals for a third year in a row, and not many do that, so how many reach 4 Finals in a row? Not many, it seems nearly impossible in this day and age.
Only three times in NBA history has a team made it to the NBA Finals four years in a row. Once when our Bill Russell led Celtics went  to nine championships in 10 years. Once when Magic Johnson and the showtime Lakers won two in four years. And once when Larry Bird led the Celtics to two championships in four tries. Outside of that, you could question that the Bulls of the 90's could be put in that category in some fashion. If Jordan doesn't retire in 1993, I think it's fair to say that the Bulls may have won 8 titles in a row, or at least perhaps made it out of the East all 8 years.
Unless James is godly like so many suggest. Then reaching a 4th Finals in a row won't be hard at all. If he's truly an all-time great then it be shocking. I'm not saying that James isn't one of the best ever, but is he up there with Russell, Magic, or Bird yet? Another factor on why it will be extremely hard for the Heat to win it all for a third year in a row? The NBA, or the East had adapted, and some teams that are in the Heat's way have improved drastically.
The league is starting to figure out ways to beat the Heat come playoff time. The Pacers were a player or two away. They will have Granger returning, and they have added even more depth to their bench with additions of C.J Watson who can score off the bench in a hurry. They have also added Chris Copeland who was big for the Knicks last season, and they have added Scola to their scary duo of West and Hibbert.
We also know the Nets have improved with culture changing players in KG and Pierce. You add some bench depth with Terry and AK47 then the Nets have a team also prepared to beat the Heat. Although Miami's fans are not the greatest. The Heat strive at home, because the refs tend to give the calls to any team at home. If the Heat are on the road in the East Finals, it's fair to say that they won't see the Spurs in the Finals in 2013, or they wouldn't even beat the Spurs in the Finals. Can the Heat get homecourt once again? We will see.

A factor that's missed is the amount of ball that has been played in the past 4 seasons, plus with a Olympics in 2012 in the mix. That will only hurt a declining Wade.
Dwyane Wade was not himself during the 2013 playoffs. Maybe he was with his dirty antics, but he was dealing with two balky knees, and that significantly contributed to him averaging only 15.9 points per game in the postseason.

But it was more than just his points per game. Wade was half the player he was, and he couldn't be counted on. His jumper was off, and with two bad knees, driving to the basket was a chore. At times he was almost a liability. He was timid because he looked worried to drive the ball.Wade's had knee trouble before, as well as other injuries. So based on these playoffs, it looks like the mileage is starting to catch up to him.This next season kind of reminds me of the Lakers fall in the early 2000's. They had a hard fought West Finals in 2002, and although they blasted the Nest in four games, the tires looked shot on the Lakers wagon.
The Heat will need Wade to show up to form, and I don't know if he'll ever be the MVP talent that he once was, and what about Bosh. He won't post up, and he won't get his hands dirty. He takes a steady diet of 3's and long jumpers. Bosh didn't score once in game seven of the NBA Finals. When does a great player do that? You could see the Heat barley got by the Pacers, and Spurs. They had a lot of luck against the Spurs who seemed to have their number. It took a lot out of the Heat, and with so many other teams in the East hungry with talent that can compete against anyone. The Heat's tired wheels, and lack of depth will be the end of a title run. Ray is 38, and Battier will be 35, and he was awful for the entire playoff run, until game seven when he nailed 5 three's. They let go of Mike Miller who has been clutch, he hit 15 three's in the Finals. Something to consider it the Dallas formula that worked in 2011, and the formula that almost gave the Spurs another banner.
James wasn't unstoppable int he Finals. He didn't score over 20 points until game 4. He broke out in game seven when the Spurs failed to change their game plan of sagging off of James. Lebron is the greatest right now, but to say he's invincible yet, like Jordan was in the 90's is a wrong assumption. At lest yet anyway. My disbelief in a three-peat isn't because I dislike the Heat. I just believer that the writing is one the wall.

Categories: None