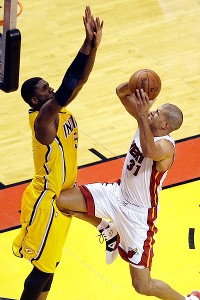 To me there is a big difference between playing tough and playing dirty. The Heat play dirty,and the Pacers play tough.Battier is portrayed as this nice guy who went to Duke, and has been a honorable person in the NBA. His actions on the court tell us something different.
In the first quarter, Battier drove to the rim, extended his knee and made contact with Hibbert's groin area when the Pacers' center attempted to challenge the shot. Officials called Battier for an offensive foul on the play as Hibbert ended up on the floor.

"U can knee or kick me every time u drive 2the rim. I'll be there 2protect the rim. That wasn't inadvertent. Battier knew what he was doing," Hibbert wrote on Twitter.

Several Pacers were upset with Battier by the end of the game. He got into several minor scuffles, especially with Tyler Hansbrough. Battier and Hansbrough wrestled for the ball in the first half, and it ultimately led to a technical foul on the Heat's Chris Andersen when he came over and appeared to push Hansbrough away from Battier.

In the second half, Battier appeared to throw an elbow at Hansbrough as the two went for a rebound. Hansbrough was called for a foul on the play. The Pacers also were upset by an offensive foul called on Heat guard Norris Cole in the fourth quarter when Cole swung his arm between Pacers forward David West's legs.

Last season, Pacers coach Frank Vogel was fined $15,000 by the NBA after saying officials let the Heat get away with flopping. Battier, one of the league leaders in drawing offensive fouls, has been accused of flopping routinely in the past.






The Heat play dirty and of course they get away with it. From Battier to Wade.

Categories: None