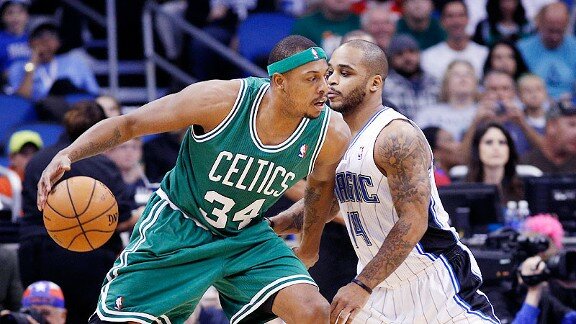 The Celtics could have easily put the Magic away, but they didn't. Because of that KG played 36 minutes. On the other hand KG was solid with 24 points, and 10 rebounds. The biggest had to be Boston's lack of three-point defense. They didn't respect the Magics three-point shot.
The Celtics were up 11 with eight minutes to play in the third quarter, but the Magic caught fire and quickly surged ahead. The three's were flowing from everywhere. The Magic ended with 11 made 3's.The Celtics were down six with less than five minutes to go, but Garnett rallied them back and his 20-foot jumper 1:21 to go tied the game at 102. The Celtics would have more chances, but they failed dramatically. Pierce had a chance to ice the game in the final seconds, but his jumper fell short.
 In the overtime Rondo scored twice on odd-man breaks late in the overtime session, delivering a pair of layups,combined with a big Pierce 3-pointer -- helped Boston pull away in overtime. Rondo extended his assist streak to 37. Putting him tied for 2nd all-time with Stockton. Rondo nearly had a triple-double. Rondo had 15 points, 16 assist, and 9 rebounds.
Pierce was very solid with 23 points. The two performances that caught my eye? Bass had a good double-double, 13 points, and 12 rebounds. Sully was good as well in 19 minutes. He had 11 points, and 6 rebounds.
Boston had to win this. They couldn't have the OKC game mean nothing. It wasn't pretty, but the Celtics got the win.

Categories: None