Another injury to a big NBA star, it's not season ending, but it's still a big blow for the Clippers.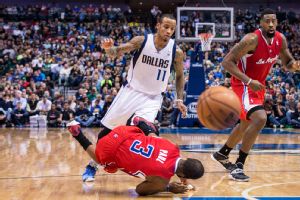 Los Angeles Clippers point guard Chris Paul is expected to miss at least three to five weeks with a separated right shoulder suffered during Friday night's 119-112 win against the Dallas Mavericks.

Clippers coach Doc Rivers said the injury to the shoulder on the star's shooting arm was a separation. Earlier, the team had announced that it it was a sprain.

Paul left the American Airlines Center with his right arm in a sling and did not speak to the media.

"He's down," Rivers said. "He's out at least three to five weeks and maybe more. We don't know that [yet]. We know it's a separated shoulder. We don't know what grade it is, yet. We'll probably send him home, and he'll get evaluated in L.A., and just hope that's he's going to be O.K."

The Clippers later confirmed that Paul will be examined in L.A. on Sunday and Monday. After that, the team will provide an update on the injury and a recovery schedule.



The Clippers are 4th out west with a 23-12 record, this will set the Clippers back, and I expect them to fall in the standings, especially with a team like the Warriors gaining steam.

Categories: NBA News