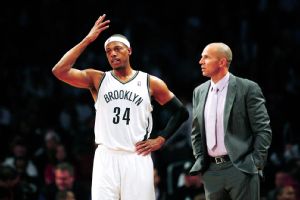 The Boston Celtics could care less about the Nets woes because their the enemy, and the Celtics want to make the playoffs. Jared Sullinger has been on point with his comments today, and his thoughts on the Pierce injury makes perfect sense, but we all struggle to look away from the mess in Brooklyn.
"I thought this was Celtics talk," Sullinger quipped. "Paul's a good guy and I wish the best for him. But we've got to worry about our season too."




ESPN


The injury-ravaged Brooklyn Nets will be without Paul Pierce for two to four weeks with a broken bone in his right hand.

Pierce's frustrating start in his first season in Brooklyn now includes a nondisplaced fracture of the third metacarpal of his shooting hand.

Coach Jason Kidd said he did not know when Pierce injured his hand, but in a news release the team said he was hurt Friday in the first half of a loss at Houston.



The Nets can't catch a break, but they knew the risks behind the big trade, and so far the Celtics may have won this trade now and in the future.



Categories: NBA News