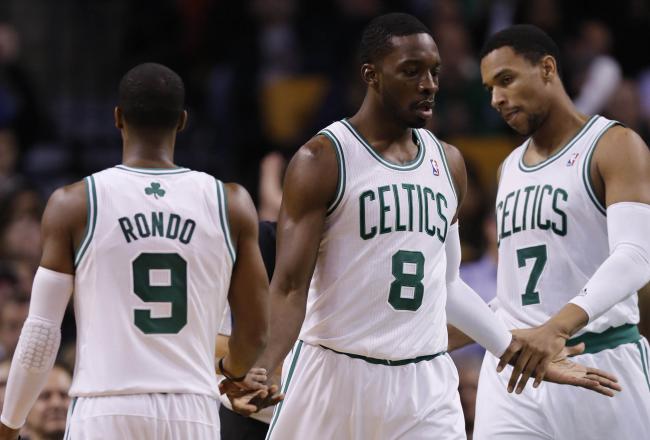 It's a bit early worrying about the playoffs, but I think the Celtics have burst many fans bubbles about tanking in 2014. It's not happening certain bloggers and fans. It's just going down for you guys. I think the Jazz and Bucks have the early edge.This team has bought into Stevens and each other so the dream is dead tankers.


"We've got to win more at home, that is what's going to get us into the playoffs," Sullinger said.

Playoffs?! (full Jim Mora voice here). You kidding me?

To some, Wednesday's game was just about the perfect script for the Celtics. Despite a slow start, Boston scrapped its way back from a 19-point first-half deficit, surged within a possession in the final minute, and, most importantly, lost.

With that, Boston's brief two-game winning streak was snapped and the Celtics fell to 6-11 on the season. Only six teams in the league have a worse winning percentage at the moment and Boston projects as a lottery team (despite the fact that the team remains just a single game out of the playoffs in a dilapidated Eastern Conference).



The Celtics may miss the playoffs, but it's how they do it that matters. I would take this team missing the playoffs by one game then seeing them tank a season. I think we know that this team is not tanking this season. Maybe the Celtics will be rewarded with some basketball karma points. Let's go down memory lane for a second.
The last time the Celtics were screwed in the lottery? The year was 2007, and the Celtics finished with 24 wins and they had the second worst record. The Celtics got the 5th pick in which they traded to get Ray Allen. The Blazers got the top pick with 32 wins, and the Sonics the second pick with 31 wins. 
They call it a lottery for a reason and it works both ways. A player like Rondo was picked 21st in the draft, and looking back he would have been a top 5 pick if not top 3 pick in that draft. The lottery won't pick teams in order in which it should most times. So you work hard and play the games, and build a culture like Stevens has. Nothing is a sure thing, and you can't bank on tanking.

Categories: None