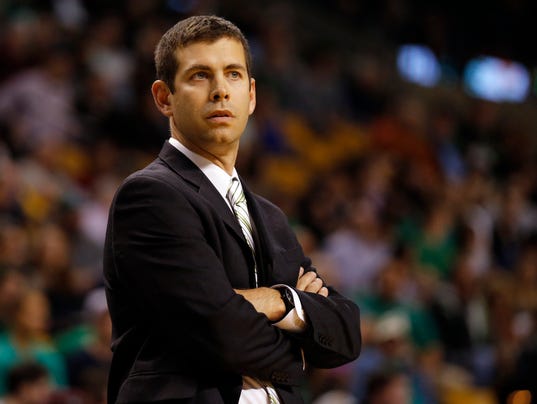 Jeff Green had just nailed one of the wildest three-point shots in some time. Green's three-pointer lifted the Celtics over the Heat in Miami 111-110. When CSN replayed the three-point hoop by Green, the camera panned over to Brad Stevens. He was calm like it was just another shot. Brad Stevens has taken his 0-4 start, and shoved where the sun don't shine.
"They know how I'm wired," Stevens told reporters after the victory when asked about his reaction to the shot. "It's about what's next."

The calm, level-headed demeanor he exudes is starting to trickle down to his players, who on Saturday played with the kind of late-game poise you expect from a veteran team and not one that has been playing together just a couple of months.

Think about it.

Seven games into the season and the Celtics have led in the fourth quarter, every game.
The Celtics are 3-4, and many fans are upset. Their want for the Celtics to tank has taken a turn for the worst. Brad Stevens so far has proven that he's able to coach a team that doesn't have a superstar. The Celtics do have a star, but he's out of course. The fans are wanting a savior in the draft. But the C's, and Stevens have other plans.
The sweet smell of air. The calmness of the waves.Water drops crossing the stones. That's Brad Stevens, but after I watched Jeff Green nailing the three in the corner. I lost it completely, with any sense of calmness out the window. As for Stevens tenure in Boston so far. He's building a culture, and everyone seems to be buying into it.
In closing. To all those tanking fanatics. Don't wish that on Brad Stevens. It's no way to build a culture. The Celtics have Rondo, picks, and cap room next summer, and players to trade next summer. The Celtics will be fine, as long as Danny keeps Rondo.

Categories: None