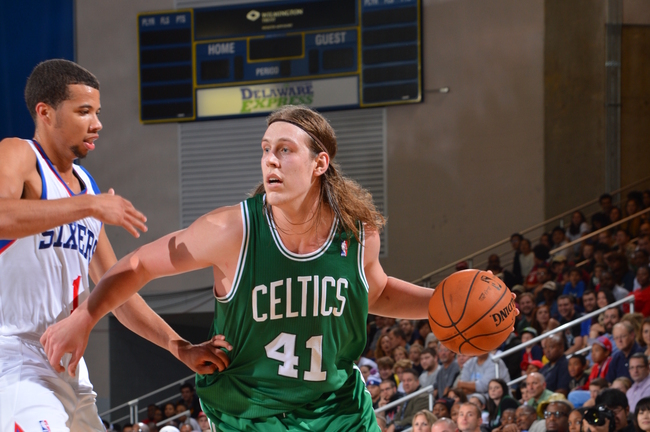 Brad Stevens has already mixed up the starting unit. Wallace was the first starter to be moved to the bench, but maybe it's Vitors turn. Vitor's production has slowly went down hill. He was scoreless in the Celtics first win of the season, and after his first two games of the year. Vitor has been below average.

After the slow start by Vitor, and after Kelly had a solid 2nd quarter. Brad Stevens decided to put him with the starting unit at the start of the third quarter.
He stayed in until 4:09 left in the second quarter, with the Celtics now leading by eight points. They'd end up going on a 12-2 run to end the quarter, leading by 16 at the break.

Then Olynyk got the call to start the third quarter in place of Faverani. He played 10:34 in that quarter, scoring six points and grabbing three boards. But whether or not he starts - a game or a half - doesn't matter.

"No, not at all," he said when asked if starting or coming off the bench mattered. "Especially being in the position I'm in. You know, I just want to be on the floor as much as possible and just want to help my team as much as possible. Whether it's coming off the bench, whether it's starting, whether it's passing, whether it's scoring, whether it's rebounding, whether it's playing defense – or all those aspects. Whether it's cheering on the bench you want to be able to help your team as much as you can and try to contribute in every way possible."

A scary fourth quarter made it interesting, but nonetheless Olynyk and the C's earned their first win of the season.

"It's good. It's big for our team, especially right now," Olynyk said. "You know, coming off four tough games, to get a win, you know, we have that confidence and hopefully we can ride that and learn from that as a team."

Olynyk's quick rise up the Celtics depth chart is certainly nothing to overlook. He's come into the NBA more ready than the average rookie, and is taking advantage of the opportunity.

Keith Bogans, a 10-year vet who has played with a number of rookies in his career, has high marks for Olynyk.

"He's a great kid," Bogans said. "I like Kelly. I like Phil and Kelly. They're two great rookies coming in willing to learn. I think Kelly is going to get a great player once he gets a feel and plays and gets a little more experience in this league he's going to be a great player.






Kelly at times looks a little out of place, but he gets his shots, and he's playing hard, along with playing smart. Kelly scored 14 points off an okay 6-of-14 shooting, he was also a +10. Is Kelly ready to start? It seems as if Vitor may have lost his starting job.

Categories: None