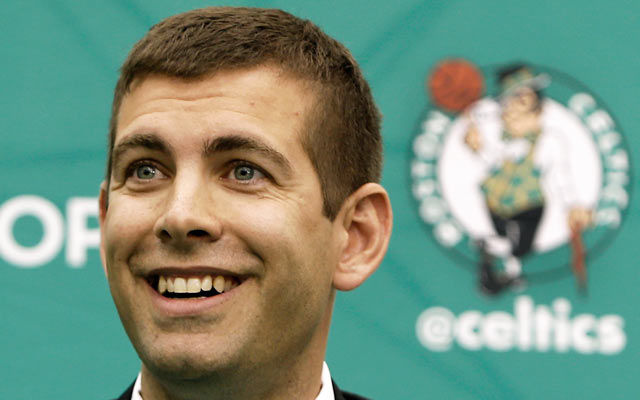 It's been the perfect marriage so far with Brad Stevens. Fans love him , local media loves him, and even the national media loves him. He's done everything right, and everything has been perfect. He's formed a relationship with his new players, and with the our superstar. He has said all the right things, and most recently he's reached out to former Celtic players. I don't know if he's reached out to someone like Eric Montross, or someone like Antoine Walker, who wanted his job, but the letters have been sent out. 
Stevens has taken on one of the hardest jobs in sports. This franchise and the fans want one thing. That's a hard task, and it took the Celtics 22 years to reach the pinnacle again. I have seen some comments around this blog, and on some other sites, and I think many believe that Stevens is a bit naive, and a bit green when it comes to the NBA. I would have to agree with that assumption. This guy at this point hasn't done anything wrong, and at this point in some of our eyes, he can't do no wrong. I believe some of his comments sound perfect, and what we want to hear. Some of his comments sound naive. I don't think anything is wrong with that, because Stevens is a rookie coach, and through all of those comments, his passion does come out.

The talent level on this team isn't bad, and I'm confident in Rondo as a leader, he's been doing it well for awhile now.I think he's a proven leader. He still has a new challenge ahead, but he's so good, and so unique. I can't count the guy out. We hear often from players, "we go as he goes", or something like that. I think the same could be said of Stevens. At this point we have no clue to what will happen under Stevens. We have no idea of what kind of basketball schemes he'll run. We do know Stevens is a numbers and stats guy who can analyze basketball in that manner.
If the Celtics don't have a great season. I think it's because of Stevens, more then the players. That's not a bad thing. What do we expect from a rookie coach? I know we don't expect great rookie players to lead there teams to titles in their rookie season. Stevens will have to adjust to a lot. Traveling, rules, NBA players compared to college players. This is like his training on the job. We can't expect him to get everything right, but it's Danny's job to train him,and to help prepare this guy for some issues that may come up.
I think the Celtics go as Stevens goes. If he gets sooner than later, then the Celtics should be right where I think they should be in year one with Brad Stevens. They should be in the playoff mix as a 7th or 8th seed, or at least right there fighting for a playoff spot. This post isn't an anti Stevens post, I'm confident in his ability to grow with this team and Rondo. I think most of us are still in the naive honeymoon phase of this hire. Which is understandable. The Celtics haven't played one game yet. Until then, it's all roses.
Some other Stevens related stories
Categories: None