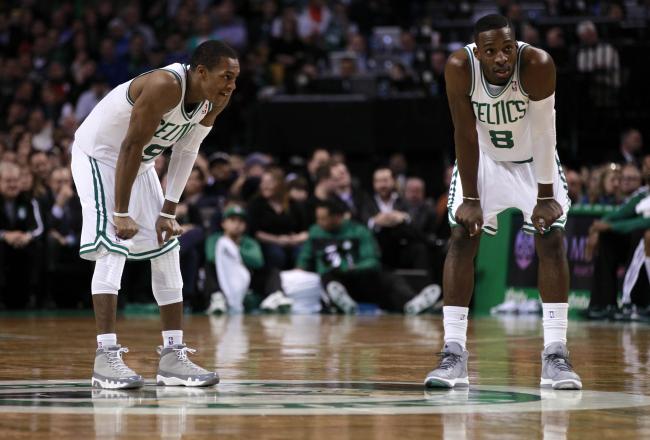 I feel like there is a divide between Celtic fans. You either want this team to play their asses off and compete for the best playoff spot possible, or you hope to god that the Celtics tank in 2013-14. I want Rondo okay, he's got to be right before he steps on the floor, and I think the Celtics won't rush him if he's not ready. There are many conflicting reports out about Rondo's status, and at this point it's all assumptions.
I want Rondo back so the fans who want this team to tank don't get their way. Those fans are seeking a quick solution. Those fans don't care for Rondo one bit. The Bill Simmons approach is for Rondo to come back after a couple months to show he can still play. Then he would want the Celtics to trade him, and to tank. He wrote this a couple of  weeks after the Celtics traded Doc and the duo to the Nets.
"Delay Rajon Rondo's return from a torn ACL for as long as humanly possible, lose as many games as possible during that time, bring him back for a 10-game trial to show everyone he's healthy again, then move him with Gerald Wallace's hideous contract ($30.3 million over three years) for cap space, draft picks and/or one blue-chipper. If the trade isn't there, then keep Rondo around and shelve him with some bogus injury in March and April to improve our pick.
My dream Celtics trade: Rondo and Wallace to Detroit for the Rodney Stuckey/Charlie Villanueva expirings and Andre Drummond. My runner-up dream trade: Rondo and Wallace to Sacramento for Ben McLemore, Jimmer Fredette, John Salmons's expiring deal, Patrick Patterson's expiring deal and a future no. 1 pick. Not saying these could happen … that's just what they have to get for Rondo. Learn from Oklahoma City's mistakes with the Harden trade — namely, not getting a blue-chipper and not clearing a bad contract (in that case, Kendrick Perkins). You have to do both, or it doesn't make sense to trade him."
I've never been a Bill Simmons fan, and this is a prime example as to why. He's another ESPN guy who doesn't get Rondo, and he doesn't plan on it in the future. He would love for the Celtics to kiss the season goodbye. If the Celtics tank the old fashion way, by playing hard, and by learning, then okay. But if you see funny business, then I question everyone who runs the team, and who plays for the team. Maybe I'm showing some selfishness about this, but I think every tanker out there is doing the same.

I wrote this in early July about Bill and tanking. Tank this Bill
I want Rondo back on opening night for more then just tanking reasons. I miss watching him play.

Categories: None