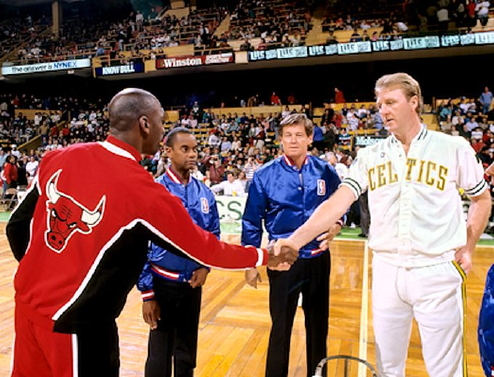 I was watching some videos the other day of Larry Joe Bird. I have always come to the conclusion that Jordan is the greatest player of all time. With Russell being the other. When you take in account NBA Championships. Jordan has Bird beat by 3, with Jordan having 6, and Bird with 3. I think you need to factor a few things when it comes to Bird's quest for more banners. Bird won three, but lost two. He reached one less Finals than Jordan. Bird also had arguably a tougher road. Bird's Celtics faced one of the greatest teams in the league history twice in the 1985, and in 1987 Finals when the Celtics dropped 2 out of the three Finals match-ups with the Lakers.
Larry Bird's Celtics also had a very tough 76ers team to contend with in the East, who won the 1983 championship. I think it's easy to say that Bird may have had a tougher path for championship glory compared to Jordan. Another fact is that Bird broke down earlier then Jordan. Larry Bird won his last NBA Championship at the age of 29, and Jordan won his final ring at the age of 35. Bird reached the Finals in 1987 at the age of 30, but that Celtics team with Bird were plagued with injuries.They were no match for a healthy Lakers team.

Another factor in Birds quest for another ring? Bird's supporting cast also had career injuries, and age came into play as well, plus the tragic death of Len Bias. Jordan was fortunate to have a fairly young Pippen, he was also healthy. I find it hard to call one better than the other anymore. Bird had a short period of time of greatness because of injuries, paired with tougher competition leaves me to believe that Bird isn't far behind in the 'who's the greatest' conversation. Bird, and Jordan are some of the most competitive players to ever play. This video sparked my thoughts in this debate.
Jordan's scoring numbers are no joke, he's the Wilt Chamberlain of shooting guards. Jordan is a better scorer, and that's no debate, and he had more moves. When it came to shooting, Bird had the better shooting stroke. Jordan played nearly 200 more games than Bird, and he played 15 NBA seasons, with Bird playing 13. If you subtract Jordan's mini comeback with the Wizards. Both Bird, and Jordan played 13 seasons. Bird had better stats in other categories like Rebounding, his career average of 10 boards per game, and 6 Assists are better than Jordan's averages. I think Bird's confidence, and competitiveness matches if not surpasses Jordan's desire. In the end, Jordan is 6-0 in the NBA Finals, and he was easily the best player for so long. 
I think will never get answers that we want when we compare greats. Jordan was in his prime in the early 90's, as Bird was in his twilight. Bird's best days came when Jordan was playing his first couple of seasons. I think you can compare to the two in this light.
Bird at the age of 29
NBA Titles 3
MVP's 3
Jordan at the age of 29
NBA Titles 3
MVP's 3
Like I said. Injuries took Bird out of the game before he should have been taken out, along with his two other counter parts in Mchale and Parish. I think Parish had more to do with age than injury. But supporting cast, and injuries may have halted Bird's title hopes in his 30's. Will never know what could have been if Bird wasn't plagued with a bad back. Jordan was able to play all 82 games in each of his last three years in Chicago. He even played all 82 games in his last official year in Washington. Jordan will always be known as a greater player, but Bird in his prime is something to think about. When it comes to who's better.

Categories: None