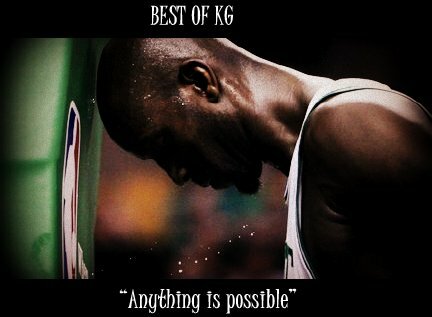 KG was robbed of the MVP award, but this was just fine. He changed the culture in Boston with defense.
Garnett helped the Celtics to league-best records of 66-16 (.805) overall and 31-10 (.738) on the road. Boston held opponents to just 90.3 points (second in the NBA) after allowing 99.2 points per game a season ago. Garnett led the Celtics to the biggest one-year turnaround in NBA history as the team won 42 more games this season than in 2006-07 (24-58), surpassing the previous record of 36 games, set by the San Antonio Spurs in the 1997-98 season.

The 12-year NBA veteran became the 32nd player in league history to record 20,000 career points on March 8 against Memphis. Garnett is only the fourth active player to reach this milestone, joining Phoenix's Shaquille O'Neal (26,296), Denver's Allen Iverson (22,988) and Kobe Bryant (21,619) of the Los Angeles Lakers.

Garnett received 493 points, including 90 first-place votes, from a panel of 124 sportswriters and broadcasters throughout the United States and Canada. Denver's Marcus Camby, who won the award last season, finished second with 178 points and Houston's Shane Battier finished third with 175 points. Players were awarded five points for each first-place vote, three points for each second-place vote and one point for each third-place vote received.
The 2007-08 NBA Defensive Player of the Year Award presented by Kia Motors is part of a series of on-court performance awards called "The NBA Performance Awards Presented by Kia Motors." The awards, which are part of a multi-year marketing partnership between Kia Motors America and the NBA, also include the Most Valuable Player, Sixth Man Award, and Most Improved Player. The series also includes the Eastern and Western Conference Players of the Month presented by Kia Motors. For more information on the "The NBA Performance Awards Presented by Kia Motors"




Some of KG's top defensive plays from 2007-08.
Categories: Best of KG