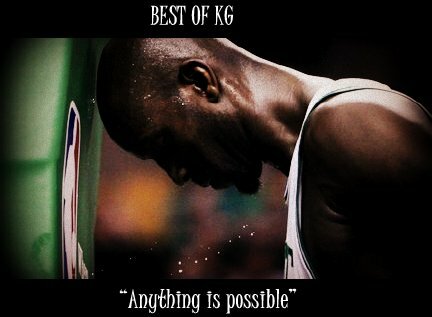 You can see the nightmares replaying in his eyes. I can imagine Kevin trying to sleep with his eyes open because the thought of seeing the ball hit the rim instead of seeing hit the bottom of the net is torture. KG was that artist late up at night who couldn't get the brush to do what he wanted. KG was the writer unable to get the first couple of words written down on his new book. Sleepless nights year after year. KG was haunted with losing, and the thought of it made him sick.
The nightmares that I'm talking about are from the 2004-05 interview that took place between KG and John Thompson. This line is KG in a nutshell. "It's not about me, it's about us." It's who he is. It's his character. He's one of the most unique stars of all-time. He won all of us over because he was a throwback to Russell, and Cowens. He saved the most stories franchise with some help. But he was the driving force behind it all.
The pain isn't there anymore. It's not in his eyes. What we see now is a guy hungry for another ring. He's come close. KG will go for it with whats left of his career. Kevin has two more years remaining on his contract. He hopefully has two more chances at his second ring, and another banner for the CELTICS. Retirement should be the furthest thing from his mind.

Categories: Best of KG