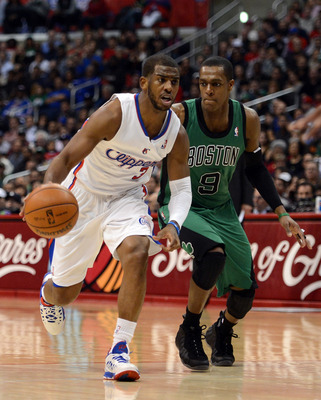 To qualify for the assists leader in the NBA Rondo must be on pace to play 70 games which he won't, or distribute 400 assists which he may.  Rondo played 38 games last year and he won the assists crown because he dished out 420 assists barely reaching the 400 assists requirement. Chris Paul currently leads the NBA with 12.1 assists per game.

If Chris Paul finished with 12.1 assists per game that would be a career high for him. Chris hasn't averaged over 10 assists since the 09-10 season. Rondo is more then capable of catching Paul, but the big question is what kind of player will Rondo return as, and will he be on a minutes restriction diet?

Rondo also has new targets on the offensive end. Paul and Kevin are long gone, and some may say the assists may go down, but I think they can go up even further. The Celtics offense is set for Rondo, and he can catch Paul, and I would like to see it. I won't sugar coat it. I dislike Chris Paul. I just don't buy into his act. He's a rival of Rondo, and I don't wish him the best on the floor.



Categories: None