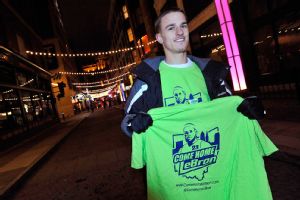 Come on Cleveland! I think they jumped the gun on this, and it smells of desperation a little bit. On the other hand they've watched James win two titles, and James has proven that he can win the big win. I would gain respect for James if he finishes his career with the Cavs. The Cavs despite the current record are in better shape. What if they grab another top pick? They can turn that into a veteran to put with James. The Cavs already have one of the best players in the game according to ESPN.

I think Irving is a bit hyped up. His season has shown that so far. I believe James will think about a return to Cleveland. Especially if the Heat lose. With the Heat old, and Wade a shell of himself. James will consider it.

A group of Cleveland Cavaliers fans that raised $50,000 to put up billboards and passed out several thousand "Come Home LeBron" T-shirts on Wednesday night got LeBron James' attention. But they did not get an answer.

"It's very flattering," James said before the Miami Heat's 95-84 win over the Cavs. "Anytime you have fans who appreciate the way you play, it's humbling."

James, however, stuck with his edict from training camp when it comes to his impending free agency next summer. He is not focusing on it.

"I'm not talking about free agency right now," James said. "My only concern is winning a third championship."
Categories: NBA News