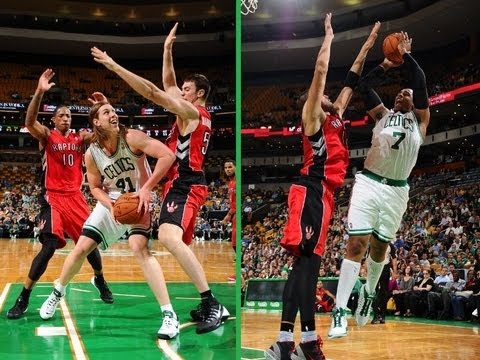 The combo of Sully and Kelly provide help for a Celtics team in the middle of a rebuild or retooling. I feel strong about Sullinger if he can slim down, and if he can remain healthy.  When I think about Kelly it's still hard for me to take a guess on how good he'll be. Sullinger at this point has a better game, but long term Kelly could be the one.
Sullinger was a risk in the draft for so many teams because of his back and I hope that's why he trims down. Sullinger will always have a big frame. Kelly is still learning and he makes his fair share of mistakes, but Stevens feels that Kelly is doing the small things that don't show up in the box score. "Kelly does so many things for us that go unnoticed," said Stevens. Sully has emerged as Boston's most consistent player in a year that was supposed to be rocky after his summer woes in his personal life.
"You can run a lot of stuff through them," Stevens said. "You can make them a passer. You can run action top of the key and let them facilitate from there. They can see a lot of things around them."




"It was overall, a positive," Stevens said.

As far as this being a lineup the Celtics will stick with going forward, Stevens left the door open that another lineup change may still be on the horizon for Boston.


"It was the right thing to do," Stevens said of the lineup change. "But I don't know that we're done tweaking."



I don't know what this means for Bass, but Sully has a nose for the ball, and he can be more aggressive at times. I still believe Bass will get moved this season.



What I like about these two guys is their passing abilities. The one thing that I think about is that Sully is still getting better. His season was cut short last year, and he's still getting his legs back and timing. I believe Sullinger can be a 18 and 10 guy in this league. I see Rondo and Sullinger as the main two guys. Jeff Green is what he is. He's 27 and he's played the same way for the past 5 years. Jeff is still a piece on the Celtics. I believe Rondo can help Green when he returns.
As for Sullinger again he's getting better, and I'm curious to see how Rondo and Sully gel. I want to see if they can work on a pick-and-roll. Sullinger can finish well (without dunking) and he can hit the jumper. I like the possiblites.

Sully's stats




Categories: None