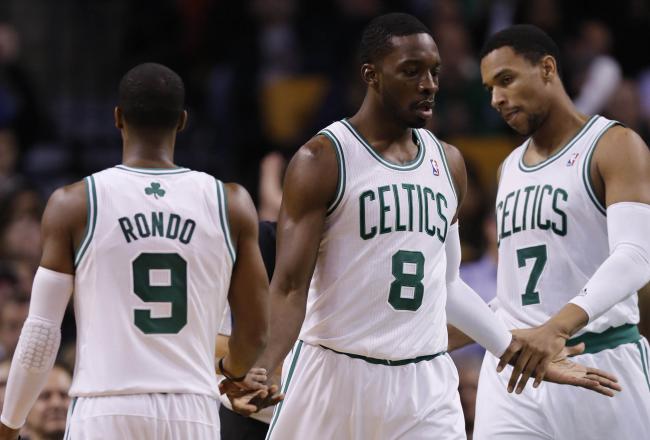 It seems that this topic won't go away. It will hang around until the season goes south, or until the Celtics actually win more games, and show that their an actual legit team. I spoke about tanking in these two posts below.

Misconceptions about tanking Part 2, did you expect 24-58?
Misconceptions about tanking Part 1

The Celtics have expressed using the medias want for this team to tank as motivation. I don't mind it being used for the Celtics as motivation, but I think they'll need more then that.


ESPN Boston

"Y'all were talking about the lottery. We didn't even think about that," Sullinger said after practice on Thursday. "We don't care about that. We want to win, we want to make the playoffs, and we want to make a run. At the end of the day, that was something that you talked about, not us."

But, just as quickly, everything turned around.

"It takes time to develop chemistry," Sullinger said. "It takes time to develop a team."Boston's four wins came over three teams that have a losing record plus the Heat, who were stunned when Green hit a 3-pointer at the buzzer. Stevens said it was just a matter of playing better basketball over that stretch: turning the ball over less and playing with a better pace."Just guys feeling more comfort with their playing opportunities," he said. "We started to fit together a little bit better. Throughout that four-game win streak, that's the way we were playing."Stevens said he has had no trouble tuning out the talk of tanking the season, saying dismissively, "I don't care about that."
But Sullinger said that if it helps motivate the team, that's even better."Oh, we definitely wanted to shut you guys up. Definitely," he told reporters at the team's practice facility on Wednesday. "With all the things we heard

Stevens would prefer that they focus on this year."You can use it as motivation," he said, "but it has nothing to do with winning a 48-minute game."

The players and coaches don't want to lose games,and that's the bottome line. They don't want some boy wonder coming in, trying to save the day. It's what they want to do.

Categories: None