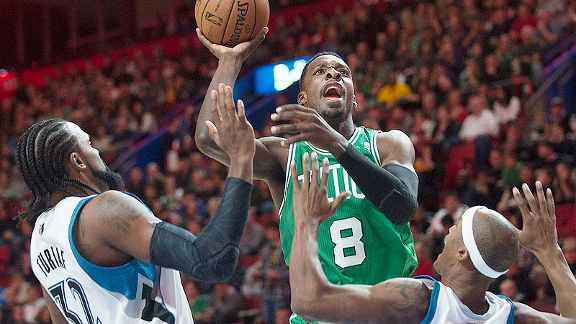 Wallace after taking a couple games off. Wallace had a team high 16 points on 6-of-12 shooting with three assists, two steals, and two rebounds.eff Green added 12 points of the bench, Gerald Wallace started over Green tonight, and so did Lee. The Celtics scored 50 points in the paint, and that was the best so far this preseason, and Bass was solid with maybe his best showing so far with 10 points and 8 boards.
Boston's shooting was horid. The Celtics shot 38.4 percent overall (33 of 86) from the floor.. The 3-point shooting was awful, as Boston was 3-of-26 (11.5 percent) beyond the arc. Sullinger missed three triples, airballing one in the first quarter. Brooks played 18 minutes, but missed 10 shots (4-of-14 overall). He finished with nine points and six rebounds off the bench.Lee didn't capitalize on the in the starting unit tonight, making just 1-of-4 shots for two points and finishing minus-16 in plus/minus.
The Celtics will wrap up the preseason this Wednesday when the Nets come to town. Will see if Stevens has his lineups set for the season, or he'll just continue to play most of the guys. The Celtics will have a week off after Wednesday. Their first game will be Wednesday October, 30th at Toronto.
Categories: Weekly Recap