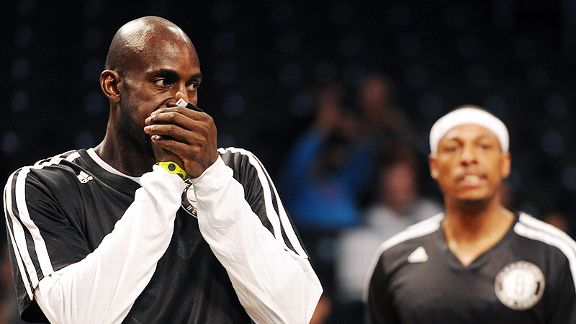 I don't expect either to play in Boston next week. They'll save their return for Jaunary 26th.
Garnett made sure to let reporters know that if it were up to him, he'd be out there.

"It wasn't my decision. So that's where I'm going to leave that," said Garnett, who will sit out the game for rest. "I am trying to be as positive as I can be. This is not up to me, and I'm being positive. I'm trying to listen and go with the plan that was laid out for me, and being positive with that, so I'm trusting [Nets coach] Jason [Kidd] and what he has in store for myself and I'm going to embrace it."

Kidd has already brought up the possibility of Garnett not playing in both games of back-to-back sets this season. Their talks, however, have not gone well, and the plan is still very much up in the air.

"I just feel like everyday you have a chance to better your craft, and I'd like to be a part of that. You just don't get to 18 years and just show up and 'ta-da.'"

It didn't matter to Garnett that he wouldn't get to face the Celtics in a preseason game.

"This is not about me individually, nor is it about Paul [Pierce], nor is it about Jet [Jason Terry] or any individual player here. We're working toward getting better and I feel like every night we step on the floor, that's the goal. And I thought we did that, and tomorrow's another chance to get better," he said.
Categories: None