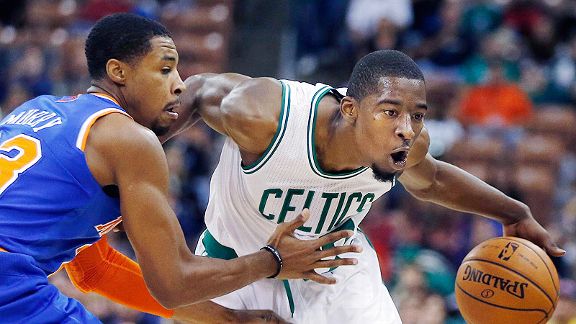 The Celtics are 1-3 so far in the preseason. The Celtics nearly capped off a comeback against the Knicks in which they lost 103-102, and they also beat the Knicks easily by 30 points Saturday night after losing the night before to the 76ers. So without further ado. I'll get into the nitty gritty. 
Player of the Week
I had to stick with Jared Sullinger, he's the Celtics' leading scorer (12.8 ppg) and rebounder (6.5 rpg). I didn't expect Sullinger to come out as strong as he has. I would honestly thought it would be Jeff Green right now leading the team in scoring in the preseason.
Non Player of the Week
Surprise, surprise, it's Jeff Green. Green is averaging 7.8 points, 1.8 assists, 1.5 rebounds and 1 block over 23.3 minutes per game. Nothing to brag about of course. Many believe in Green, and many believe he'll turn the corner. I think he will, but I don't see him leading this team to a winning record int he month of November. Down below are two stories about Green's woes.

Performance of the Week
Sullinger drops 19 on Philly.

Honorable mention would have to be the 12 points by Babb in seven minutes of action.
Here are some of the weeks best stories of the week.


I want to welcome new writer Yenu to the fold, and I want to thank Morena for her work this week. We have another writer I want to thank, who hasn't been able to write much as of late. NeCsFan, will be writting at some point this year, and I can't wait.

Categories: Weekly Recap