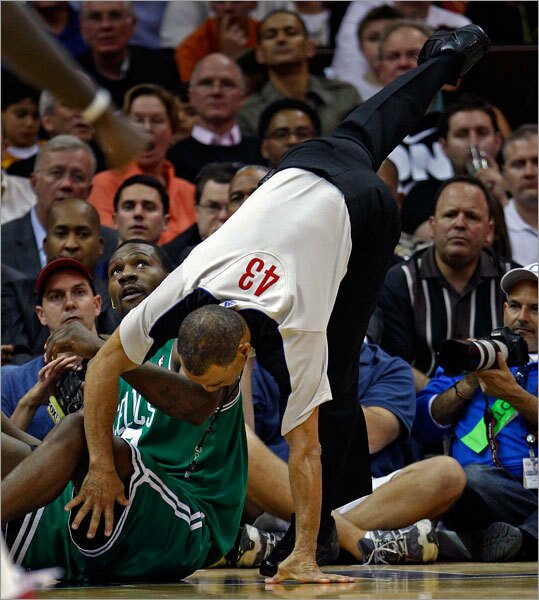 I didn't watch this game. It was apart of my own boycott. But I did hear plenty of the poor officiating gripes. The main reason I put a boycott on Miami Heat games was the poor officiating, but from what I gather. James fouled out, and the Heat were charged with 30 fouls compared to the Pacers 25. So was the league making up for not suspending Wade? Who will really know, I highly doubt that was the reason behind the poor calls in game 4.

In a playoff season that has been mostly free of referee-based intrigue, the officiating crew that worked Tuesday night's Game 4 contest between the Miami Heat and Indiana Pacers gave NBAniks a season's worth of drama on one night. There wasn't a killer missed call that decided the fate of a game-winning shot, no player injured himself badly on a non-call that went awry, and the course of the back and forth wasn't altered by a fight or series of technical fouls that went out of control.

No, this Joey Crawford-led refereeing crew simply decided that the game was best served with its imprint all over it. Which is why there were a ridiculous 55 personal fouls called in this contest, with the Heat grabbing 30 of those whistles, including a somewhat shocking sixth foul called on LeBron James with a minute left in the fourth quarter.

James' absence hurt the Heat, there was always the chance that the team could have rallied behind its star to pull out the win as the team was four points down with a minute to play when LBJ was whistled for an offensive foul. James had yet to foul out during the 2012-13 season prior to Game 4, only reaching five fouls twice in the year, including an overtime-addled five whistles during Game 1 of this series. The lack of LeBron in the final minute wasn't what put the Heat away, though, as the Pacers stayed mindful of their station throughout the gutty win, while answering every Heat run.



The refs need to be held accountable in some manner. I've been saying it since I started this blog. They're allowed to become characters out there, and they're driven by their egos, more so than the players more times then not. The refs seem to always be inconsistent in some way.  I could really rant about the NBA, but I will hold back this time. Down below will be the highlights and press conferences.
Game 4 Highlights

Categories: None